I had something goofy-fun planned for this blog, but as it goes with blogging, writing, and ideas, I got an inspiration. It starts with my eventful yesterday at EEI Communications. The morning began with me being let go.
I'm only "mostly unemployed" as of Tuesday. I'm still a freelance instructor. I'm still available for public speaking events. I'm still working as a consultant. A problem with the freelancer's lifestyle is if I'm not working, I'm not getting paid. Over the summer, one of my best clients — EEI Communications — came to me with a part-time position working logistics for all the trainers. It was a "trained monkey" kind of job, but it was income. In the end, I took pride in the fact I accepted a job nobody wanted and fixed a system that was severely broken. I was let go from this part-time gig not because I couldn't do the job, but because EEI needed to make cuts.
So now I'm working on booking speaking engagements, landing freelance gigs, and finding a creative full-time position that would provide security. In my search-and-surf of opportunities, I came across Magpie. This service, in brief, puts ads into your Twitter stream. You set up how it works (i.e. for every twenty tweets, one ad with a Magpie hashtag is sent), and then are paid based on the reaction to the ad and how often ads enter your Twitter stream. The site offers you an estimate on how much your Twitter stream can earn, so I punched "TeeMonster" into my iPhone to see what would happen. According to Magpie, I could make somewhere around $7000 a month.
Woah.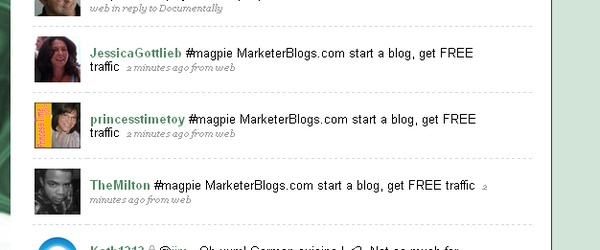 GeekMommy's screenshot of Twitters using Magpie
I was all set to give this service access to my Twitter account; and then I thought for a moment about my last Survival Guide to Writing Fantasy, in particular my Whiskey Tango Foxtrot Moment. I had recently railed on an author for being a Twitter spammer. All this supposed writer does is pitch, pitch, pitch, and link, link, link in his tweets. This individual didn't start out that way seeing as I block the TwitterBots that do nothing but spam TinyURLs. If it weren't a hassle to weed through my followers, I'd drop this self-proclaimed weblebrity, but I've learned instead to tune him out. That's how I regard Twitter if a post from this individual pops up. I zip by it because I know the tweet is simply pitching something and contributing nothing. This is an issue I've always talked about with Twitter and Social Media: If you want to use Twitter as a marketing tool, the secret isn't pimping, but participating. You need to build a community, be part of the community, and actively contribute to the community.
That was bandying about in my brain as I thought long and hard about signing on with Magpie.
How would it look if every twentieth or, if I was feeling particularly aggressive, tenth tweet an ad related on something I was tweeting about suddenly popped up. How does that reflect back on me? This wouldn't be like the free version of Twitterific where ads are interspersed throughout the stream. These would be ads with my handle, my face. Magpie is relying on the network and reputation I have fostered to help promote their sponsors, sponsors that I personally cannot vouch for. Did I really want to be associated with other free blogging sites or online services that I myself didn't (or wouldn't) use? Yes, when I call for sponsors on my podcasts, I pretty much will consider everyone and everything; but in those instances I know who is sponsoring me, I'm the one in charge of the ad, and I've got cash in hand. With Magpie, I'm offering up my stream and the frequency of ads, leaving the rest up to Magpie. That's a lot of control I don't have.
Apart from the mystery meat of sponsors that could latch onto my Twitter stream like remoras on to Great Whites, I lingered on how the Twitter community regards me. Let's face it — I tweet. I tweet A LOT. I have, at the time of this posting, over 23,400 tweets. All that tweeting, and I blog, podcast, and do puppet shows for my kid's school. (By the way, George and I are coming back for a Christmas show. I'm thinking a two-"man" Christmas Carol in twenty minutes or less…) I love Twitter, and those who follow me on Twitter know that. I don't call my followers "Followers" but my network. It's old friends, new friends, fans of my podcasts, and Social Media experts and enthusiasts. Yes, I get picked on a lot and tend to be the punch line to many jibes … but there is also a lot of respect out there granted to me. People ask me on both TeeMonster and ITStudios (my professional Twitter account) advice on podcasting and writing. The Crew (fans of MOREVI: Remastered) playfully pester me when the next episode is coming, and then give me assurance when things like my MacPro failing on me (yeah, that happened the day before the layoff…) occur. There was, at the time of my layoff, an outpouring of support, love, and — for a few in my network — resources offered freely and openly. My network respects me. In turn, I respect them. What is that respect worth?
I then returned to my WTF Moment from SGWF #41. Is that what I wanted to become? Less signal, more noise?
Magpie wants to put a price tag on my reputation and my name, and I am flattered that they put my potential worth so high. (I am confused, though, how my value dropped by $3000 when I performed their evaluation a second time on my laptop.) Even if I were to earn half of what Magpie estimates, it would be some nice fun money for me. I could travel a bit more with my books. I could take care of a few bills. I could spoil Sonic Boom with some fun tech toys. But is my reputation worth that? My Twitter Persona under TeeMonster can be described as many, many things, but the term "spam" has never been associated with my tweets. I tweet a lot, but it is always with my voice, my thoughts, my passions.
"What's in a name?" my boy Will Shakespeare once asked. Quite a lot, it turns out. What's a name worth to you?