Been searching for a writing topic of late (and I have at least two "authorly" blogposts that just need a few more words and a spit-polish before they go live) but the start to 2015 has truly been a mixed bag of nuts. I've been Vaguebooking a little around it, but it's February now and I think I'm starting to see daylight again. The past week afforded me a moment to take a step back to take stock in things, and it came to my attention that I did not do something that happens often on social media. You will see those panicked calls to prayer and for support when things go south in a life. These calls happen often, and sometimes when the follow-up's come, we wish they wouldn't. Usually, it's bad news.
Not this time though.
This isn't my story. This isn't Pip's story either. It does involve us, though, directly. Thing is, it's not my story to tell; but I will say this much: someone in our family went in for what was described as a "common procedure" but things went south. Pip had flown back to New Zealand for what was supposed to be a week of recovery. Her trip turned into a waiting game. "He could come out of it. He could die…" we were told. A far cry from what we were expecting. Pip and I turned to you all—Christians, Muslims, Wiccans, Buddhists, Atheists, and everyone in between—and asked for your support. Whether they were prayers, blessings, or just thoughts of kindness, you all were there. Each and every one of you.
I know bad things happen; and sometimes, even after people rally around you and shower you with love, bad things still happen. This isn't me saying "Because of you, everything's okay!" This is me saying "Thank you for sparing a moment to keep us in your thoughts, hearts, and prayers."
The dust is settling now, we are all recovering, and things are returning back to normal. We're okay, and we're all happy and healthy.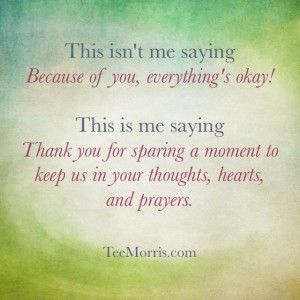 The support you all showed me and my family reminded me of the same support you all bestowed on me during my job hunt during 2014. Actually, this job hunt started back in 2012 when I had been let go at Intersections. To say "It's been a bumpy ride…" would be an understatement, but throughout it all you all have been there to keep me going. Sure, I had the writing and the Kickstarter project success to take in and keep me going. There was also a lot of things happening behind-the-scenes that felt like anchors around the ankles. I needed to keep going, keep pushing; and plenty of mornings, I felt lost with no drive whatsoever.
Sometimes, it would be one comment. Sometimes, it would be several comments. Here. On social media. In real life. It would be that support, a moment of positive reinforcement, that would get me out of bed and keep me going. You all kept me, my awesome wife, and my incredible kid in mind, and I don't know if I ever took the time to say "Thank you" and I apologize for that. It's been an eventful start to the year, and I wanted to take a moment and give kudos to you. You were there, and you helped me through it all.
Thank you.
Now, I've got a book to release, some writing to accomplish, and more days ahead of me. You've made it with me this far. I hope you continue this journey with me, together.
Talk to you later.